Tech Receives NACDA Community Service Award – Athletics – Georgia Tech Yellow Jackets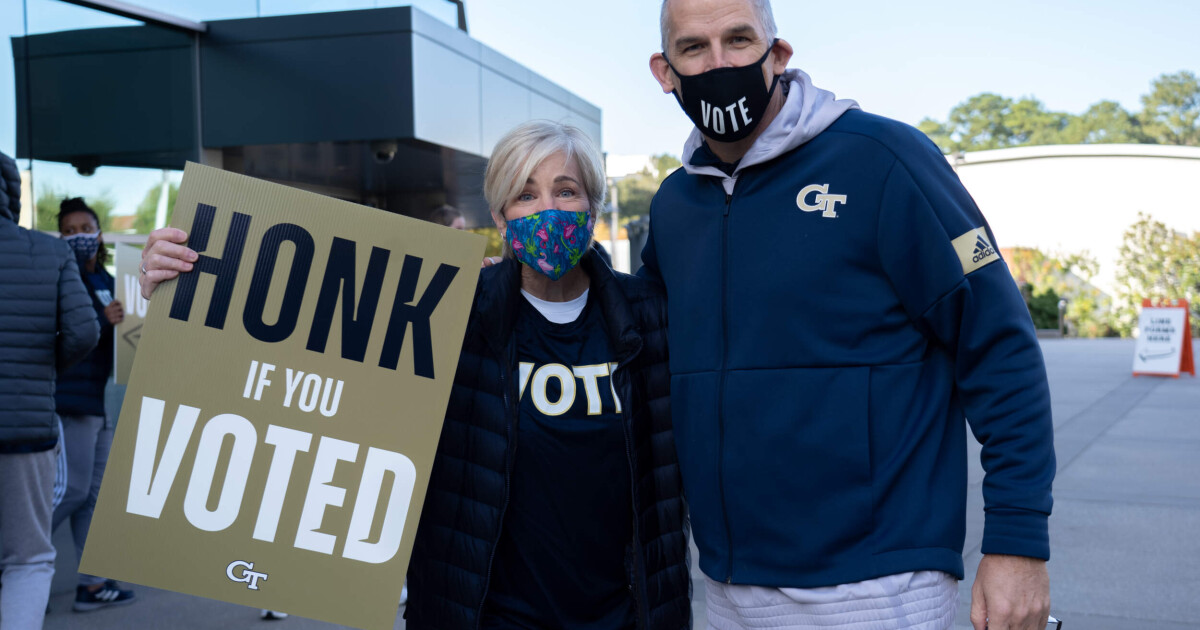 NACDA press release
THE FLATS — Georgia Tech has been selected as the winner of the 2021 Community Service Award for its #AllVoteNoPlay initiative, the National Association of Collegiate Directors of Athletics (NACDA) and Fiesta Bowl announced Tuesday.
Now in its fifth year, the award recognizes NACDA Division I member institutions for outstanding community service efforts. A five-person committee comprised of athletic directors across the country and representatives from the Fiesta Bowl and NACDA assisted in the selection process to honor athletic departments that make volunteerism and community service a way of life . Georgia Tech will receive a Fiesta Bowl trophy for permanent display.
The award will be presented by the NACDA and the Fiesta Bowl on Saturday, November 13 at Tech's football game against Boston College.
"We often speak at Georgia Tech about how the power of sports gives us a platform to impact our communities," said athletic director Todd Stansbury. "I am proud of our student-athletes, coaches and staff who have used their platforms to promote citizenship and encourage everyone to take part in their most sacred civic duty as Americans – the right to vote. I congratulate our incredible student-athletes, coaches and staff for receiving this tremendous honor and thank the Fiesta Bowl and NACDA for recognizing their efforts.
Georgia Tech is recognized for its #AllVoteNoPlay initiative which launched a national campaign last summer. An idea that emerged from a virtual men's basketball team call defended NCAA legislation calling for Federal Election Day on November 3, 2020, as the day off from all athletic activities, thereby allowing student-athletes and staff to exercise their civic right to vote.
Led by male basketball student-athlete Malachi Rice and associate head coach Eric Reveno, the #AllVoteNoPlay initiative was immediately backed by Georgia Tech head coaches and staff, and quickly garnered national support. . Reveno, who ultimately wanted to increase civic engagement and education for student-athletes and increase voter turnout among the 18-24 year old population, partnered with NABC and ALL IN to create the Promise of voter engagement. More than 1,100 men's basketball coaches from all divisions and levels signed the pledge, which also helped more than 5,000 student-athletes register to vote.
Georgia Tech's 2020 Student-Athlete Advisory Council Chair and baseball student-athlete Hugh Chapman helped pitch the idea to the Chair of the Division I Student-Athlete Advisory Committee (SAAC) NCAA to formalize campaign and legislation. With the help of Chapman and the NCAA SAAC, legislation was passed declaring the first Tuesday after November 1 of each year as a day with no accounting activities related to athletics.
"College student-athletes are increasingly making community service a meaningful part of their overall experience and it's exciting to see. Georgia Tech's program started in Atlanta, expanded nationally, and was impressive in its reach to shine a light on the importance of voting," said Mike Nealy, Executive Director of the Fiesta Bowl. "Todd Stansbury and the entire Georgia Tech Athletics family continue to contribute to their community on and off the field at the highest level."
"We are proud to recognize Todd Stansbury and the entire Georgia Tech athletics department for their important work in their national #AllVoteNoPlay campaign," said NACDA CEO Bob Vecchione. "The 2020-2021 academic year has been difficult to navigate for many reasons, and thanks to the efforts led by Malachi Rice and Coach Reveno, student-athletes across the country have been able to find their voice and use their platform for positive way."
Georgia Tech is the second Atlantic Coast Conference program to receive the community service award, with Boston College winning the honor in 2019. Tech also joins Vanderbilt, Southern California and Maryland as recipients of the prestigious award.
Alexandre-Tharpe Fund
The Alexander-Tharpe Fund is the fundraising arm of Georgia Tech Athletics, providing scholarships, operations, and facilities support for over 400 Georgia Tech student-athletes. Help develop Georgia Tech's Daily Champions and help the Yellow Jackets compete for championships at the highest level of college athletics by supporting the Annual Athletic Scholarship Fund, which provides scholarships directly to Georgia Tech student-athletes. To learn more about supporting the Yellow Vests, visit atfund.org.
For the latest information on the Georgia Tech Yellow Jackets, follow us on Twitter (@GTathletics), Facebook, instagram or visit us at www.ramblinwreck.com.