MLK Day Events, Speaker, To Focus On Community Service, Black Excellence – The North Wind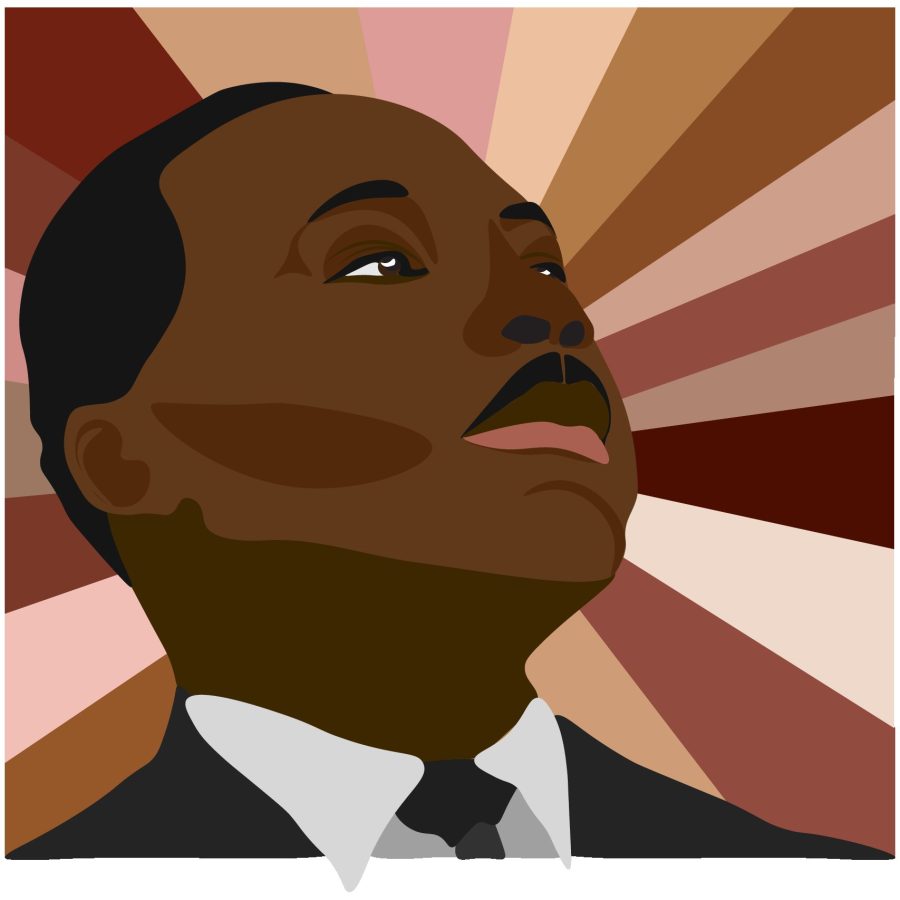 Monday, January 17 marks the 36th celebration of Martin Luther King Jr. Day with nationwide marches and acts of community service. King, who turns 93 on Jan. 15, will be honored at NMU with several outdoor events hosted by the Student Equity and Engagement Center and the Center for Student Engagement.
"We need to continue to affirm that it's a culturally inclusive and supportive atmosphere here and a supportive climate," said SEEC Acting Director Leora Tadgerson. "We need to continue to have these initiatives to get across MLK's views and initiatives. He was an amazing man with a beautiful heart and mind and those teachings still hold true today, and we really need to point that out.
MLK's teachings on inclusivity, nonviolence, and service to others, to name a few, will be included in the schedule of events scheduled from 11 a.m. to 3 p.m. on MLK Day. A virtual Skillbuilder on food insecurity in Marquette will be presented at 11 a.m., followed by a Legacy Walk from the Forest Roberts Theater to the Lodge at noon. The walk will conclude with guest speaker, Darnishia Slade, and service projects outside the Lodge.
Slade has a Ph.D. candidate at Michigan Tech and instructor at Pavlis Honors College. Her research work focuses on black students in rural settings, specifically at UP, according to Stefani Vargas, program coordinator at the Student Equity Engagement Center.
"[Slade] focuses on a concept called Grit, which is similar to the concept of resilience," Vargas said. "I asked him to come talk about his research and really talk about black excellence, especially in UP In this environment that we find ourselves in, what does it look like when black students thrive and how do we celebrate that."
Slade's presentation will begin around 12:30 p.m. outside the Lodge and will also be posted online for those unable to attend in person.
"Honestly, I can't wait to have [Slade] as a guest speaker and really seeing the students take in the information and sit with it," Vargas said. "I always find that when we have a really engaging speaker, my favorite part actually happens a few days after, when these students come in and say, 'oh my God, I've been thinking about this for days now and I've really processed this. Can we talk about it?
For students who wish to address Slade's work and the long history surrounding MLK Day, volunteers from SEEC and CSE will be around the Lodge speaking with students and distributing take-out service projects and snacks.
"After the event, even though we can't come together as a community and have lunch safely, we would like them to come in, grab a trail mix or a cupcake and take it back to their dorm or home to finish the celebration," Vargas said.
Due to COVID-19 precautions, students will not be able to complete many service projects in the Lodge and may instead take them home and return completed projects to the Lodge by 4:00 p.m. or to the Student Enrichment Center before january. 19. Service projects include making cards and placemats for veterans at the Jacobetti Home for Veterans and preparing masks for Room at the Inn. Students will also have the opportunity to make blankets for the Women's Center and wrap bags of cereal for in-person JJ Packs with limited availability to ensure social distancing.
"I think MLK Day is this perfectly impactful time where we have the legacy walk that culminates in a really impactful program and allows people to really reflect on the legacy of MLK and also the current state of anti-blackness in this institution, in this region, in our country," Vargas said. "And maybe hopefully hearing some really positive things and really celebrating black excellence and feeling that catharsis of that."