LGBTQ+ and Allied Community Center will celebrate their grand opening and announce a fundraising campaign for a 60-unit affordable building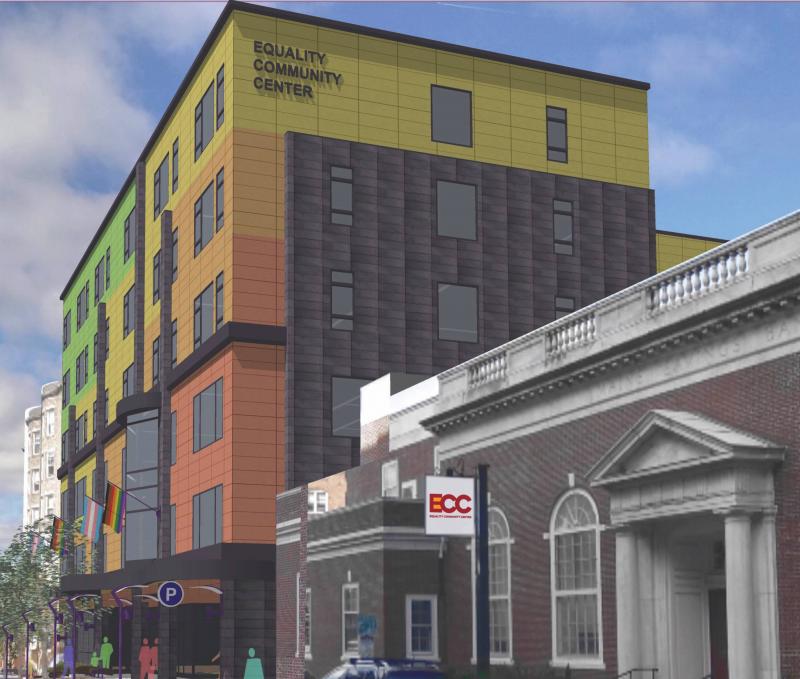 PORTLAND – The Equality Community Center (ECC), located in downtown Portland, will celebrate the grand opening of its new home at 15 Casco Street on Saturday, October 16 at 11:30 a.m. with a ribbon-cutting ceremony. This will be followed by a free block party open to the public from noon to 4 p.m., which will include live performances and a DJ, BBQ, cash bar, kids' activities, giveaways, and more.
Guest speakers will include House Speaker Ryan Fecteau, Portland Councilman Andrew Zarro, South Portland Mayor Deqa Dhalac and Portland Poet Laureate Maya Willams.
The block party will also serve as the public launch of the ECC's construction and community support fundraising campaign to raise $4 million. Currently at $2.5 million, the funds will be used to complete renovations at 15 Casco Street and plan the site for a new affordable housing building adjacent to the centre.
With the parking lot donated at 45 Casco Street, ECC plans to construct a 60-unit affordable housing building with parking that will serve LGBTQ+ seniors and other marginalized communities.
According to Equality Community Center, in a press release, when the project is completed, it will be the first of its kind in New England: a community center with programs, community services and housing on one campus for the LGBTQ+ community and beyond. .
In its new home, the ECC offers nearly 22,000 square feet of office, event and meeting space. It is a hub for a wide range of nonprofit organizations aligned with LGBTQ+ and social justice values, including tenants: EqualityMaine, Maine Transgender Network, Democracy Maine, Khmer Maine, Cross Cultural Community Services, PFLAG and Pride Portland.
It also serves as a programming hub for community partners such as Queer Craft Maine, Maine Gay Men's Chorus, Prevention Action Change, Maine Family Planning, Frannie Peabody Center and more. Since its inception in 2016, the ECC has hosted over 1,500 community events and welcomed over 7,000 LGBTQ+ visitors through its doors.
ECC applies an intersectional lens to all of its work and believes deeply in the meaningful community connections that can be made authentically by creating a welcoming environment for all who walk through its doors, according to the statement.
"At a time of heightened attacks on LGBTQ+ and youth rights, growing social and political polarization and animosity, the Center represents permanence, safety and inclusive acceptance for all – an achievement for the LGBTQ+ community and other marginalized people who cannot be removed," EEC said.
Betsy Smith, ECC Founder, Board Member and Fundraising Chair, said, "ECC provides a sense of belonging and pride, is a place of anchorage for all and serves space for our communities to thrive. The Center is for those who have gone before us, for ourselves and for those who will come after us.
For more details on the grand opening party, visit: https://eccmaine.org/party.
For more information on the ECC's capital campaign to build and support the community, visit: https://eccmaine.org/campaign.