Holley Community Center will begin offering health services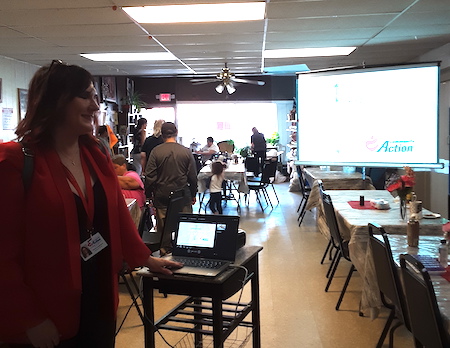 By Ginny Kropf, correspondent Published on August 15, 2022 at 09:06
HOLLEY – A grant from the Finger Lakes Performing Provider System enabled Community Action to provide health care from the community center in Holley.
On Thursday morning, the program was presented to a packed house of local citizens who regularly take advantage of the programs offered at the center, including the daily lunch.
Community Action Director Renee Hungerford described her 'Axis of Care' program which received an $84,000 grant to provide a free health clinic, including visits to the Oak Orchard Mobile Health Unit Health.
The first visit of the mobile health unit is scheduled for August 24. It will provide laboratory services and will have a nurse practitioner.
Telehealth will be available at both the Albion office and the Holley Center.
The health coach at Holley will be able to make referrals, coach clients on proper diets, and provide advice on insurance.
"It will be a one-stop shop," Hungerford said.
The need for a health clinic in Holley was identified when Hungerford asked Debbie Rothman, director of the Holley Community Center, what other services Community Action could offer.
The main answer was "health care," Hungerford said. She added that the social determinants of good health have been proven to be food, health care and a roof over your head.
"We have the ability to help provide that," Hungerford said.
She said Orleans County has the third-lowest health scores out of 62 counties in New York State. There are 13,450 patients for every primary care provider, she said.
Oak Orchard Community Health, Orleans Community Health and GCASA will work in conjunction with Community Action to provide health care. A GCASA peer counselor will be on site once a week. They will partner with Orleans Community Health to offer telehealth visits.
There will be fees for health visits, depending on income. For those without health insurance, someone will be on hand to help clients enroll in Medicaid or health insurance.
Case manager and health coach Jeanette Worsley will post a schedule when the Holley Clinic is staffed.
A regular visitor to the Holley Community Center who is happy to see this new health program launched is Beverly Selden. She comes to dinner every day, she said.
"It allows me to be with people and help where they need me," Selden said. "It provides a nutritious meal for a lot of people who might not otherwise have it. It got me through the last five years of my life. I had gone bankrupt and had medical problems. They supported me all this time. The medical clinic will benefit many people. I will take advantage of it in any way I can."
Rothman, with the help of his assistant Rachel Escobar, said they serve an average of 40 people a day and recently had a record high of 71 people.