SIOUX CENTER—Mayor David Krahling, on behalf of the town of Sioux Center, presented the town's annual community service awards on Friday.
The three awards – one for an individual, for a business and for an organization – were presented at the annual Spirit of Community Banquet that the city co-hosted with the Sioux Center Chamber of Commerce.
Individual
Dale Den Herder of the Sioux Center was the individual recipient of the Community Service Award.
Krahling noted that Den Herder began serving on the city council in 1970 and served for a total of 36 years. He also led the community for 12 years as mayor.
"The projects Dale has worked on are a testament to the power of cooperation, long-term thinking and returning to our community," Krahling said.
This list of projects included the development of Open Space Park, the water treatment plant, two sewage treatment plants, the expansion of the old public library and the construction of the existing one, the Center Mall, the All Seasons Center, Terrace View Event Center, Sioux County Regional Airport. , Siouxnami Water Park, investments in the Lewis & Clark Regional Water System, an interest in Missouri River Energy Services and more.
"This list of projects, while important, is not just about those that have been completed. Dale's contribution is more about the way these projects were planned and the cooperation required, than many different stakeholder groups working together for the greater good," Krahling said. "Dale, thank you for over five decades of faithful service to our community. You led well. You have taught us to look far into the future and to invest for the long term. You have embodied what it means to make progress through cooperation. It was a gift for the whole community.
"On behalf of this grateful community that has been greatly blessed by your leadership, congratulations and thank you for your service."
Business
The Peoples Bank of Sioux Center was the recipient of the Community Service Award.
"After a year of feeling separated from each other, even in our local community, in 2020 some people were dreaming of ways to bring us all together. And some of those ways were important," Krahling said. "It took a year of planning, an entire bank staff, 300 strands of Christmas lights, 40 different light decorations, hot glue and tape, six committees and many gallons of hot chocolate, but the Peoples Bank did it: To a giant display of Christmas lights to bring the community together again, Christmas for a Cause.
Krahling said Peoples Bank staff thought about something for the community to do, something family-friendly, something that stood out. They also wanted to benefit from an organization helping others in difficult times. They decided to create a giant illuminated Christmas display and allow visitors to make donations to benefit family crisis centers.
"It took everyone at the Sioux Center Peoples Bank location to make this happen," he said. "They formed six different committees, coordinating everything from parking to layout to hot chocolate. Despite shipping delays, they succeeded, setting up the displays over several months to get them ready for Christmas. »
In the end, more than 5,000 people walked through Christmas for a cause, donating $12,500 for Family Crisis Centers.
Organization
The Northwest Iowa Critical Incident Stress Management Team was the recipient of the community service award.
"When we hear sirens and see flashing lights, we are momentarily aware of our emergency responders. We can be curious for a while or even say a quick prayer. But within minutes we probably forgot already," Krahling said. "The men and women who travel in these emergency vehicles, arrive on the scene, treat seriously injured people, go through a fatality, intervene in dangerous situations don't have that luxury. When they deal with people in traumatic situations, they themselves experience trauma. Once the emergency vehicles are back in their garages, it's up to them to process what they've seen and experienced.
"Thanks to a group created at Sioux Center, local emergency responders don't have to do it alone. The Northwest Iowa Critical Incident Stress Management Team was created to provide a measure of healing to emergency responders.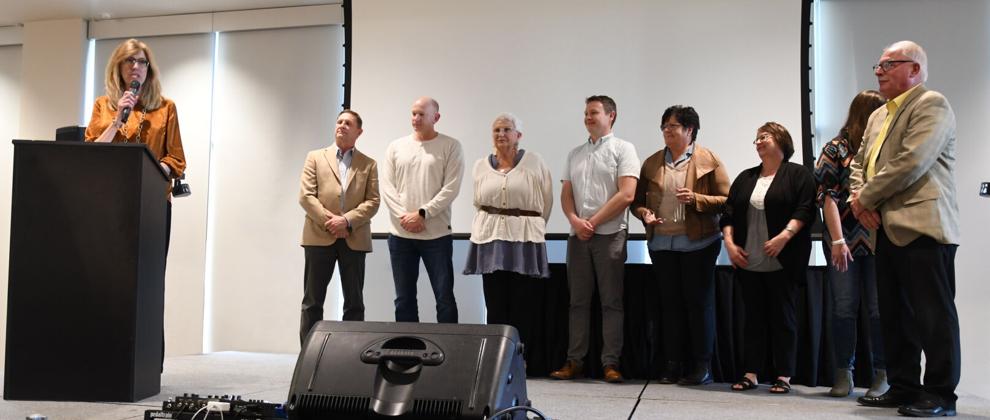 Krahling said that within days of a major incident, members of this volunteer team met with responders to help them deal with the trauma they had suffered.
The team debriefs them and helps them reflect on their reactions and emotions. They remind responders that the physical symptoms of trauma – such as nausea, lack of appetite and dreams – are normal. They encourage first responders to adopt healthy treatment methods, such as talking with teammates, working with a counselor, spending time in nature, and avoiding alcohol or other substances.
"The team is helping responders return to a normal level of functioning, allowing our first responders to be ready to serve again the next time someone calls 911," Krahling said. "This team of volunteers is made up of about ten people representing emergency response teams and mental health professionals. They work with stakeholders as often as necessary, sometimes giving up evenings and weekends to do so. Join me in thanking these unsung heroes who have worked for over a decade behind the scenes to help our emergency responders and bring healing.