Arts in Action mural energizes Coastal Recovery Community Center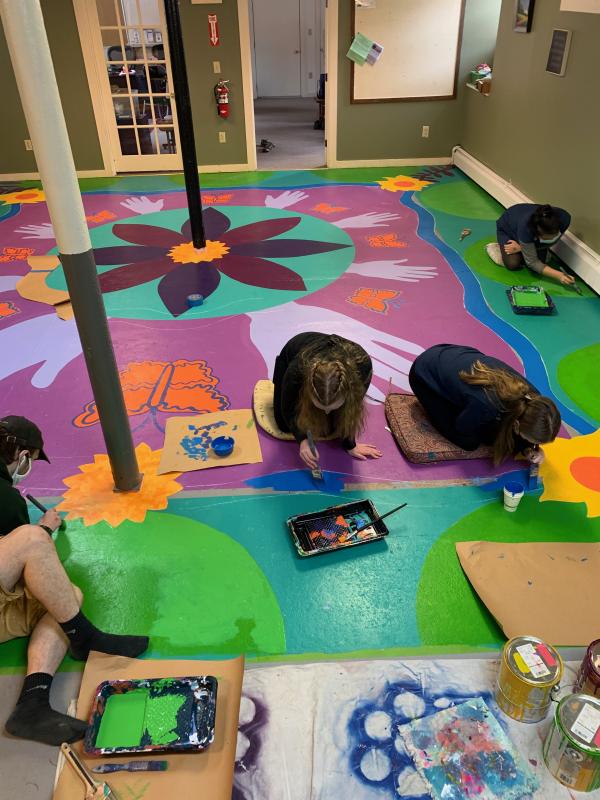 ROCKLAND – Young artists from Oceanside High School worked with the Arts in Action (AiA) community mural program to create a vibrant floor painting for the Coastal Recovery Community Center (CRCC) in the basement of the St. Peter's Episcopal Church at 11 White Street in downtown Rockland.
Nine young artists developed collaborative designs and concepts in AiA workshops with images including waves, vines, flowers, helping hands and butterflies – all to illustrate the theme "Hope and Power of Change" presented by the CRCC. With the help of 18 volunteers of all ages, including seven OHS students, the first of two floor paintings was completed in February.
The project was started by CRCC Co-Director Erin Hustus through connections made to the RSU13 Youth Alliance, a collective of more than 15 organizations that support and engage with youth in the Rockland area. CRCC exists to support and educate those affected by addiction and provides a safe, sober, and supportive space for all ages, all paths to recovery. Neighboring organizations also at 11 White St. are:
Restorative Justice Project Maine strives to promote community justice, repair harm, and create safety and well-being for all in its mid-coast service area of ​​Knox, Waldo, Lincoln, and Sagadahoc counties;
Volunteers of America Provides services to those involved in the criminal justice system in three areas, diversion/diversion from incarceration, programs while incarcerated, and post-release support in Waldo and Knox counties, in Maine.
Founded in 2012, Arts in Action is a program of RSU13 Adult and Community Education with support from the ANONIMO Foundation. For more information on AiA and to enroll youth in our FREE programs, please contact Mural Director: Alexis Iammarino, [email protected]